Volunteer Central welcomes a new Executive Director
Aug 26, 2015
Volunteer Central is pleased to announce that Tammy Oliver-McCurdie has joined the organization as Executive Director.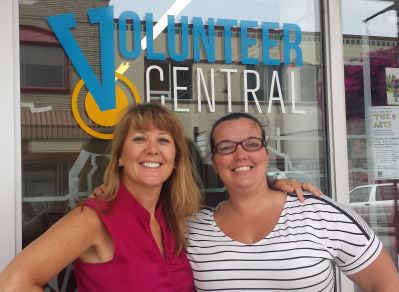 Pictured: (Left) Departing Executive Director Karen Oatway (Right) Incoming Executive Director Tammy Oliver-McCurdie
"On behalf of the Volunteer Central Board of Directors, I'm thrilled to welcome Tammy to our organization," said Jennifer Blair, Board Chair for Volunteer Central. 
"Her wealth of knowledge and proven leadership will be instrumental in helping Volunteer Central fulfill its mandate to promote and encourage volunteerism across central Alberta."
Tammy comes to Volunteer Central from Innisfail FCSS, where she has been the manager for the past two years. Prior to that, she was an Area Manager for the Heart and Stroke Foundation and Executive Director for the Tofield/Ryley/Beaver County FCSS. 
Along with nearly 10 years of experience working in the not-for-profit sector, Tammy brings extensive fund development, strategic planning, human resources, and financial management experience to the role—skills that are critical to ensuring Volunteer Central remains a sustainable organization, said Blair. 
"Volunteerism is an important part of any community, and with Tammy's help, Volunteer Central will be able to continue its work bolstering the volunteer sector in Red Deer and beyond," she said. 
Tammy began her new role on August 17, working closely with outgoing Executive Director Karen Oatway to ensure a smooth transition. 
"Karen has been absolutely integral to Volunteer Central's success over the past year, and we're grateful for all the work she's done to build a stronger volunteer sector in central Alberta," said Blair. 
"While Tammy certainly has some big shoes to fill, we're excited about the passion, skills, and drive Tammy will bring to Volunteer Central, our partner organizations, and central Alberta's volunteer sector." 
As central Alberta's volunteer centre, Volunteer Central promotes and encourages volunteerism in Red Deer and beyond, by connecting volunteers, non-profit organizations, and businesses to create successful volunteer relationships across central Alberta.
Tags: