Community Services
Community services in Red Deer and area available during COVID-19. 
Emergency Isolation Support Application: 
Financial support for working Albertans who are experiencing a loss of income resulting from self-isolation due to COVID-19.
https://www.alberta.ca/emergency-isolation-support.aspx
Providing safe and timely access to supports and services is at the heart of what we do. Our government is committed to addressing family violence and, throughout the COVID-19 pandemic, we will continue supporting vulnerable Albertans. We encourage your organizations to balance the safety of your staff and clients with keeping your critical services available to support Albertans experiencing family violence.
Social connectedness
Isolation is a risk factor for family violence, so during this time of physical social distancing, we encourage everyone to stay socially connected. Consider staying connected with family, friends, colleagues and community however you can: through phone, text, video chat or social media.
Update your organization's service changes
We are encouraging Albertans experiencing family violence to call the Family Violence Info Line. The trained staff on the line can provide advice and support, and information on supports and services available in the caller's area.
Please take the time to update the Family Violence Info Line with any changes to your agency's service delivery by emailing:
Please note, the Family Violence Info Line will continue to help Albertans get connected to the right information and supports. They are doing their best to meet the increased demand. However, Albertans may experience higher than normal wait times to reach someone.
For latest updates on services, supports, or resources:
The Outreach Centre:
The Outeach Centre, home of Womens Outreach and Suicide Information & Education Services, remains available and committed to supporting those in need and requiring assistance.
Connect with us by PHONE Monday-Friday from 9am-3pm at (403) 342-4966 or 1-866-347-2480.
In response to the COVID-19 pandemic and to ensure the health and safety of our staff, clients and communities our building will not be available to the general public. It is important that we do our part to reduce the risk of transmission to all.
Need Help Now?
We are offering FREE single phone/video sessions with one of our therapists and mental health professionals. Call (403)342-4966 or email alesia.hadija(at)womensoutreach.ca to schedule an appointment.
Mountain View Emergency Shelter Society  
Family Services of Central Alberta:
Our Family Therapists continue to see clients through the use of various technology and phone. Our Play Therapist has been very successful working with the kids via video conferencing.
·         Our Home visitors are supporting their families in the same way through various uses of technology.
·         Home Support will be back up and running in the next few days after we are able to ensure we have the equipment and training to keep everyone safe
·         Our main line is open if anyone needs any form of support they certainly can call in and we can chat with them or get them to the right supports.( 403-343-6400)
·         We are looking at trying to get some groups up on line so keep an eye on our social media ( Facebook and Instagram)  and website( www.fsca.ca) for more information
·         Unfortunately we have had to cancel the annual Children's Festival for June 5th & 6th
Lacombe Sobeys Golden Grocery Delivery option:  
Lacombe FCSS has teamed up with Lacombe Sobeys to offer home grocery delivery to  help individuals, seniors, families and other vulnerable Lacombe residents who are isolated or impacted by measures to contain COVID-19.
To take part, follow these step:
1)   Call Lacombe Connex at 403-786-9000 or Lacombe FCSS at 403-782-6637 to see if you are eligible to use this grocery delivery service.
    - if eligible Lacombe Connex will take the customers contact information:
      Name\ Address \ Phone number  
2) Call Lacombe Sobeys at 403-782-7871 to place a 2 bag maximum order over the phone.  Please provide Lacombe Sobeys employee with a clear and concise shopping list.
3) Lacombe Sobeys will take payment for the Groceries over the phone - Lacombe Sobeys will take the customers contact information:  Name\  Address \ Phone number 
4) Please note transportation & grocery orders will be delivered on a "next day" basis. 
5) Delivery will be made daily between 10 am and Noon, Monday to Friday The Lacombe Connex delivery service will be offered free of charge.
COVID-19 Safe work practices will be followed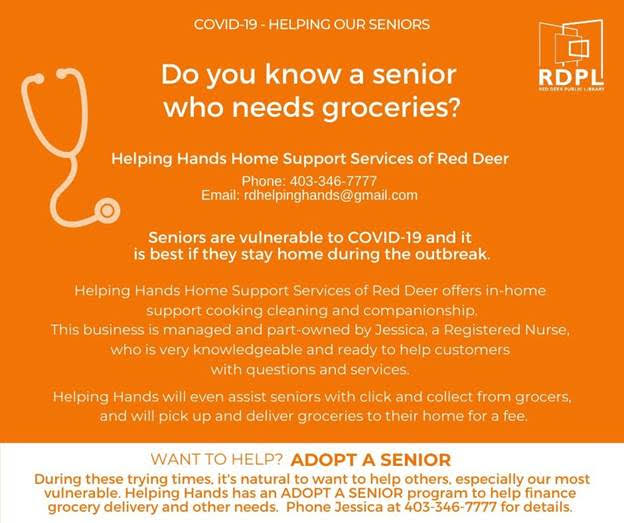 Innisfail: 
COOP and No Frills in Innisfail has opened one hour earlier on Monday | Wednesday | Friday's for shopping for seniors or those with mobility and/or special needs.  COOP is 7-8 a.m. and No Frills is 8-9 a.m. 
COOP and Pharmasave does deliveries. 
Olds:
West View Coop has a reliable delivery service of groceries. Preferred Pharmacy in Olds delivers prescriptions: https://www.facebook.com/oldsneighbors/   Phone: 403-415-9850
Rocky Mountain House:
Meals on Wheels program in Rocky Mountain House and Caroline.
Food Bank is giving out hampers by appointment only today (March 19, 2020; a sandwich board was out on the street in front to indicate this)
Soup kitchen cancelled. However, the Asokewin Friendship Centre (previously Rocky Native Friendship Centre) is open daily serving food right next door.
Our FCSS Program & Volunteer Coordinator manages a Volunteer Registry. If a senior has a need, they may utilize local volunteers as an option. Feel free to give them her number (403) 895-2763 if they are in need of help. 
Three Hills:
Seniors Outreach in Kneehill County has recently limited our reach.  Our main office will be open from 9:00 a.m. to 2:00 p.m. Mondays through Thursdays. We would prefer phone in appointments unless absolutely needed to meet in person.  We have social space available, and are trying to be cognizant of  health and safety protocols to sanitize, etc. Our CommUnity Drop-In Centre, Three Hills is closed as of March 18. Our buses will not be running from March 18 onward. We have some limited caring car drivers and other volunteers who are willing to deliver food, etc. to seniors as the need arises. Still have Meal on Wheels available in Linden, Acme, Three Hills and Frozen meals available through meals on wheels for Carbon and Three Hills.  This depends on our volunteer drivers continuing to help out. They will need to phone us at 403-443-2555 or in Carbon area at 1-888-443-2555 for assistance.
Stettler:
Prescriptions- Shopper's Drug Mart and Apple Drugs both deliver. Groceries- None of the grocery stores are taking orders or deliver. 
Meals on Wheels is still running and will deliver 403-742-6568.  They are also willing to deliver groceries or prescriptions for their clients. There are no services to deliver from the bank or post office.