COVID-19 Response
Mar 22, 2020
NEEDS:
If you are looking for ways to help our community cope with ongoing COVID-19 situation, below are requests from our partner organizations. Please continue to refer back to this page as it gets updated with new requests. 
Canadian Mental Health Association:
Looking for perishable food items for tenants who are quarantined and volunteers to assist at Amethyst House and/or the homeless quarantine location.

Email or call the main line and leave a message at 403-342-2266
The Lending Cupboard:
Current clients of The Lending Cupboard are asked to hold onto any borrowed equipment at this time until the office re-opens to the public. Although services are temporarily suspended, operating costs still remain. Donations are graciously accepted during this difficult time on line or by mail. To support The Lending Cupboard Red Deer visit www.lendingcupboard.ca. Ongoing service updates can be found on TLC website and social media.
The Golden Circle:
The Golden Circle is closed for all programs and events until April 30th, when the City will re-evaluate and inform us of our next steps.
The Golden Circle is still providing limited outreach services.  The phones will be answered between 8:30 and 4:30
The frozen meal program is still available to support isolated seniors and people with disabilities, call 403-343-6074 to place an order.  A menu is on their website at goldencircle.ca.
The Salvation Army:
Food Bank is still operating, but people do need to book an appointment and we've had to revise the hours and distribution process to avoid passing on any germs if possible. 

Items that are needed for Food Bank are cleaners, canned goods, toilet paper, shampoo, soap or any other personal care items.

 
The Mustard Seed:
Open M/W/F 12 p.m. to 6:30 p.m. |    T/Th   8a.m. to 3p.m.   |     Leave donations at door
Gown (FDA) Hazmat Suit Sealing Strip
Non-contact thermometers
Surgical Masks (FDA)
Masks (FDA & NIOSH)
Masks (Face Shield)
Hand sanitizer
Hygiene items (soap, shampoo, deodorant, feminine hygiene products)
Juice boxes
Bottled water
Fresh fruit
Granola Bars
Kerry Wood Nature Centre & Waskasoo Environmental Education Society:
Green Deer Volunteers; Calling all Red Deerians to come together for Green Deer!

Green Deer is Red Deer's annual city-wide spring litter cleanup.

Although it is prudent to physically self-isolate and socially distance ourselves amid the COVID-19 crisis, it is imperative we recognize this does not mean we should socially self-isolate. Participating in Green Deer is a great way to get outside and give back to your community during this time of need. Individuals and families from all walks of life and all areas of the city are encouraged to pick up litter in their backyards and neighbourhoods.

For more information, please visit https://www.waskasoopark.ca/kerry-wood-nature-centre/green-deer 

The online registration form can be accessed at https://forms.gle/H76dGfnnfM5dxqkU8 

Contact Person: Alice Koning
Phone Number: (403) 346-2010
Email Address: reddeergreendeer(at)gmail.com
CLOSURES:
Youth HQ; staff available by phone or email. Applications and paperwork can be dropped off in 

a mailbox outside the front door

Red Deer Public Library; online content available. Visit rdpl.org
Canadian Mental Health Association; 

our Systems Navigator is available at 403-506-9955 who is trying to help people navigate the government announcements for support as best they can. Crisis Counselor available at 403-304-7662 - as long as they remain healthy! You can also still call our main office line at 403-342-2266 and we will check messages as often as possible.

The Lending Cupboard; staff available by email or phone. 
Aspire Special Needs Resource Centre; staff available by email or phone.
United Way of Central Alberta; staff available by email or phone.
City of Red Deer Recreational and Cultural Centres
Red Deer Museum and Art Gallery
The Golden Circle; staff available by email or phone. 
Alberta Sports Hall of Fame
Habitat for Humanity ReStore; Habitat for Humanity Red Deer on reduced hours
SERVICES + COMMUNITY HELP: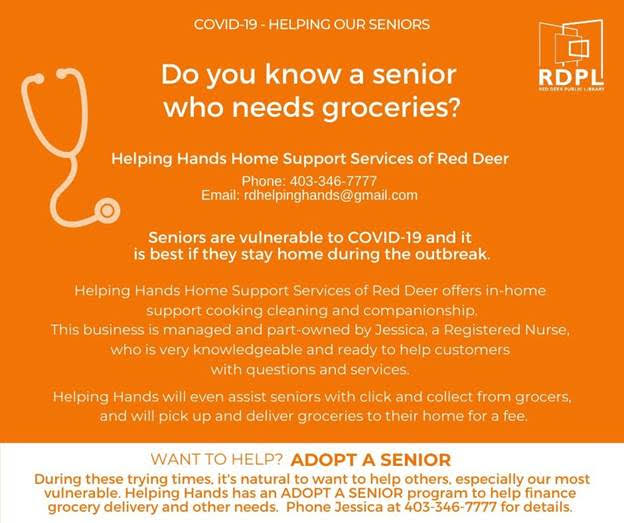 Innisfail: 
COOP and No Frills in Innisfail has opened one hour earlier on Monday | Wednesday | Friday's for shopping for seniors or those with mobility and/or special needs.  COOP is 7-8 a.m. and No Frills is 8-9 a.m. 
COOP and Pharmasave does deliveries. 
Olds:
West View Coop has a reliable delivery service of groceries. Preferred Pharmacy in Olds delivers prescriptions: https://www.facebook.com/oldsneighbors/   Phone: 403-415-9850
Rocky Mountain House:
Meals on Wheels program in Rocky Mountain House and Caroline.
Food Bank is giving out hampers by appointment only today (March 19, 2020; a sandwich board was out on the street in front to indicate this)
Soup kitchen cancelled. However, the Asokewin Friendship Centre (previously Rocky Native Friendship Centre) is open daily serving food right next door.
Our FCSS Program & Volunteer Coordinator manages a Volunteer Registry. If a senior has a need, they may utilize local volunteers as an option. Feel free to give them her number (403) 895-2763 if they are in need of help. 
Three Hills:
Seniors Outreach in Kneehill County has recently limited our reach.  Our main office will be open from 9:00 a.m. to 2:00 p.m. Mondays through Thursdays. We would prefer phone in appointments unless absolutely needed to meet in person.  We have social space available, and are trying to be cognizant of  health and safety protocols to sanitize, etc. Our CommUnity Drop-In Centre, Three Hills is closed as of March 18. Our buses will not be running from March 18 onward. We have some limited caring car drivers and other volunteers who are willing to deliver food, etc. to seniors as the need arises. Still have Meal on Wheels available in Linden, Acme, Three Hills and Frozen meals available through meals on wheels for Carbon and Three Hills.  This depends on our volunteer drivers continuing to help out. They will need to phone us at 403-443-2555 or in Carbon area at 1-888-443-2555 for assistance.
Stettler:
Prescriptions- Shopper's Drug Mart and Apple Drugs both deliver. Groceries- None of the grocery stores are taking orders or deliver. 
Meals on Wheels is still running and will deliver 403-742-6568.  They are also willing to deliver groceries or prescriptions for their clients. There are no services to deliver from the bank or post office.
CANCELLATIONS:
CommUnity: Power of One Event

Free Tax Clinics @ Golden Circle; 

      The tax clinics on March 21, 28, and April 4

th

 have been cancelled. Future dates are to be determined. For more information go to the 

Golden Circle website

.

Drop In Digital Literacy Fair; March 20th; Red Deer Public Library; Dawe Branch
FOR ORGANIZATIONS:
Red Deer & District Community Foundation Announces $50,000 in support for local charities
(Red Deer, AB) In response to the COVID-19 pandemic, the Red Deer & District Community Foundation announced on Friday they are committing a minimum of $50,000.00 towards immediate support for front line charities in Central Alberta.
"Our charitable sector is being presented with obstacles they could never have imagined," Erin Peden, Executive Director said. "As a Community Foundation, we pledge to provide supports wherever possible."
Earlier this week the Foundation suspended their spring grants in anticipation of greater immediate needs. At present $50,000 has been committed in response to the COVID crisis; however Peden says the Foundation will address needs as they are presented above and beyond the initial commitment.
"In the meantime, we ask our friends, colleagues and donors to consider contributing to the Red Deer & District Community Foundation COVID Response Fund to help us effectively provide supports where it is needed," Peden said.  "We will be looking at all areas of need so by donating to the fund, you are putting your support exactly where it is needed."
According to Peden the Red Deer & District Community Foundation will be working collaboratively with other community funders including the United Way and FCSS to ensure the community as a whole is well supported.
"Never has there ever been a greater need for collaboration," Peden said. "We will be
communicating openly and regularly with our colleagues to ensure we are creating a blanket of support for Central Alberta."  
Those wishing to donate to the COVID-19 Response Fund can do so online at 
www.RDDCF.ca
.
The Red Deer & District Community Foundation has granted over $11.5 million dollars to local charities in the last 30 years and remains dedicated to strengthen the quality of life in Central Alberta. 
For more information or further comment contact:
Erin Peden, Executive Director
Red Deer & District Community Foundation
Suite 503, 4901 48th Street, Red Deer, AB
Phone: (403) 341.6911
_______________________________________________
In response to the ongoing COVID-19 situation, Volunteer Central is creating an information hub on our website. The intention of the hub is to communicate your organizational needs to the community and to share information. 
We're reaching out to you to ask you to let us know:
Your Increased Needs - do you need?
Emergency facilities (for over-crowding or other reasons) or meeting rooms?
Food 
Personal hygiene items
Services e.g. drivers, delivery people
Blood 
Supports for newcomers e.g. translation services
Supports for mental health
Needs for supports for additional precautions e.g.protecting volunteers from infection
Volunteer management - do you need more volunteers? Do you need supports for volunteers e.g. transportation?
Communication needs - extra equipment, tablets, laptops, printers?
Can we help get the word out about:

Canceled programs or events
Canceled training
Facility closures
We know you are busy dealing with many challenges right now, but ask that you take a moment to let us know what you need. As community members reach out to us asking how they can help, we want to provide them with the most useful information. Like many of you, our staff are working remotely. Please email your information to 
 with a list of your needs and how community members, donors, or volunteers can reach you.
Together we're stronger.
Tags:
Add Pingback